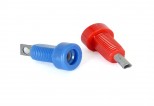 Al Mayer, President of Mayer Molding started the company in 1968 in Jaffrey, New Hampshire with one used machine. He quickly acquired several more machines and set up his machine shop. The company has always been a family business with all members of the Mayer family participating in its growth and development. In 1977 he purchased a building in Fitzwilliam, New Hampshire where he expanded the operations to include more molding machines, a larger machine shop, and warehouse. The very first job that he began molding when he started the company is still being ordered and shipped to this day.
Since 1968, Mayer Molding has molded a variety of products ranging from a hamburger patty maker, disposable police handcuffs, concrete rebar risers, a jewelry cleaner basket, parts for ear muffs, a variety of knobs, buttons, caps, gears, washers, bushings, boxes, rings, and handles. Our specialty has always been small intricate parts and short run orders. Some parts have been as small as the pellets of raw material that make the part to parts weighing over one pound.
In 2004, Al decided to move the company to Maynardville, Tennessee. He loved the Smoky Mountain area and he was seeking a warmer climate. At this time, his wife and daughter rejoined the company. Liz Mayer handles Quality Control and inspection, while Alise Heemstra handles the Administrative and Operations functions. Arno Mayer also participates in the business with special projects and set ups. Due to an excellent service history with our customers, the move to Tennessee has been a positive one. Since relocating to Tennessee, the machine shop has been upgraded with some newer equipment enabling us to better meet the needs of our customers.